Your Best Family Guide: Embrace Parenthood in Style, Toronto
This is your go-to guide for urban, connected, and lively family living in Toronto and beyond. Stemming from humble beginnings as a host of family-friendly parties and rock shows back in 2006, the blog creators evolved into an online magazine in 2008. The aim has always been to create a space where parents can embrace the joyful chaos of family life without losing their personal identities.
Having children doesn't mean you have to sacrifice your interests or passions, nor does it imply relocating to "babyland" forever. As Bunch Family, the blog authors fervently believe in retaining your unique persona while being fantastic moms and dads.
Popular Topics Covered
Entertainment and Media
Unveiling Toronto's Best Kept Secret: Outdoor Movies
Toronto's vibrant outdoor cinema scene is an incredible journey under the stars. An amalgamation of classic films, intriguing indie creations, and blockbuster favourites unfold on vast screens against the city's captivating skyline. Outdoor movies in Toronto offer a unique twist to conventional movie experiences, from the nostalgic charm of the Christie Pits Film Festival to the coastal allure of Sail-In Cinema.
Netflix Movies for Kids: Infinite Worlds of Adventure
Netflix offers an expansive library of kid-friendly movies that promise endless adventures. With a variety of genres, children can delve into magical worlds, unravel mysteries, or embark on thrilling quests. Netflix invites children to let their imagination soar.
Family Entertainment: Unforgettable Moments for All
Family entertainment is an enriching blend of laughter, learning, and love. TV shows on Family.ca stand as fantastic tools to bring your loved ones closer. Whether you're seeking comedy, drama, or education, you'll find an array of shows catering to all interests and ages.
Comic Extravaganza: Diary of a Wimpy Kid
"Diary of a Wimpy Kid: Wimp Yourself" offers a humorous and engaging world for readers of all ages. Dive into the amusing world of Greg Heffley, where the ordinary transforms into the extraordinary. Embrace the laughter, discover the fun, and join the worldwide craze.
Rob Zombie: The Artistic Versatility
Explore Rob Zombie's world beyond the horror genre. His multi-faceted career has much more to offer than you might expect. This versatile artist has even ventured into kids-friendly projects, proving that his creativity knows no bounds.
---
Learning Through Fun: CBC Kids Trampoline
CBC Kids introduces a unique concept of combining fun with learning, like bouncing on a trampoline. This innovative approach keeps children engaged while ensuring they learn essential life skills and knowledge. CBC Kids also offer a variety of educational resources that make learning an enjoyable journey for every child.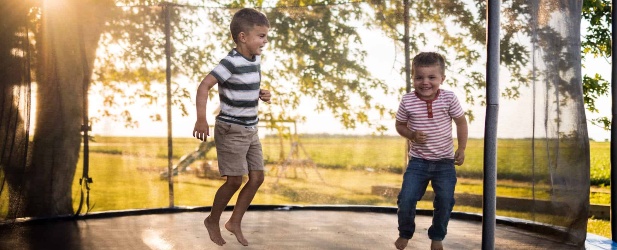 Art, Crafts, and Festive Experiences
Baking Joy: Christmas Tree Cake Pops
Next on our journey through delightful experiences is the art of baking Christmas tree cake pops. These bite-sized festive delights are a fun and creative way to celebrate the holiday season. We provide a comprehensive guide that takes you through each step with precision. Full of exciting tips and coupled with mouth-watering visuals, you'll be a master of these festive treats in no time.
Capture the Magic: Halloween Photo Booths
Halloween photo booths offer an exciting way to capture the spooky fun. These unique booths, filled with props and costumes, allow you to immortalize your Halloween memories in a creative and quirky way. They provide the perfect setting to preserve the magic of Halloween with a snapshot.
Adventurous Attire: Tintin Costume
A Tintin costume is your passport to an unforgettable adventure. These costumes, designed for kids and adults alike, bring the thrilling world of Tintin comics and movies to life. Whether you're a fan of the investigative journalist's comic book exploits or his big-screen adventures, dressing up as Tintin is a delightful experience for every adventurer at heart.
---
Communication and Personal Expression
Fostering Connection: Summer Camp Stationery
Summer camp stationery plays an essential role in fostering creativity and connection among children. The thrill of personalizing correspondence with colourful stationery can inspire young hearts and create lasting bonds. From handwritten letters to heartfelt drawings, summer camp stationery is a treasure trove of memories.
Places and Activities for Kids
Café Kids: Relaxation Meets Entertainment
Café Kids is a unique destination where entertainment and relaxation blend seamlessly. Their diverse, family-friendly offerings are a treat for children and parents alike. From delightful delicacies to engaging activities, Café Kids promises a fun-filled experience for the whole family.
Toronto's Playtime Paradise: Kids Parks
Toronto's kids parks are a paradise of fun, laughter, and endless playtime. These well-designed spaces offer a variety of activities to keep your little ones entertained while fostering their physical and cognitive development.
---
Adventure and Outdoor Activities
Celebrating Togetherness with Old Navy Family
The Old Navy Family campaign emphasizes the power of togetherness and the joy of shared experiences. Discover a collection of outfits perfect for your family's adventures, regardless of the occasion. This campaign beautifully highlights the bond and love within a family.
Canoeing Across Canada: The Ultimate Adventure
Canoeing across Canada is an exhilarating way to explore the country's breathtaking landscapes. Connect with nature, challenge yourself physically, and create lifelong memories as you paddle through tranquil lakes and turbulent rivers.
Adventure Awaits

This guide is your passport to explore diverse interests. From baking festive treats to watching outdoor movies, from playing at the park to canoeing across Canada, there's something for everyone. So why wait? Dive in and uncover the joy of new experiences.